Broccoli is one of the most popular vegetables. It is a source of all the essential amino acids needed by the human body.
What are the amounts of protein in broccoli?
A cup of broccoli (around 90 grams) contains 2.5 grams of protein. And although broccoli contains fiber as well as vitamins A, E, C, and K, you should also rely on other richer in protein foods to get your daily protein intake.
Is broccoli a superfood? Is it a good source of protein?
Broccoli is very low in calories and low in protein, but contains a wide spectrum of nutrients and antioxidants. It can be added as a nutritious side dish to protein-rich foods like chicken breasts, eggs, red lentils and others.
Other health benefits than the amount of protein
The main benefits of broccoli are improved bone health due to the collagen and calcium, and reduced risk of cancer thanks to the antioxidants it provides. Aside from that, broccoli is rich in vitamin C, which improves skin health, battles wrinkles, and boosts the immune system.
Broccoli also aids in digestion, as dietary fiber prevents constipation and diarrhea. One cup of broccoli provides up to 10% of an individual's needed daily dose of fiber. It also reduces inflammation, helps manage type 2 diabetes, and regulates blood pressure.
If you are consuming a big amount of protein, broccoli can come to aid, as fibers are more needed when your protein intake increases. Fibers aid proper digestion and should not be neglected.
Need a good lactose-free protein powder?
Is broccoli a complete meal?
Despite containing a lot of valuable micro and macronutrients, Broccoli is far too low in calories to be a complete meal. The super vegetable lacks the needed protein and fats per serving and you would need to eat 50 cups of broccoli to get around 1500 calories. Aside from low protein and almost no fat content, broccoli also lacks vitamin D and B12.
Combine broccoli with lean chicken, cottage cheese, olives, or even a pork fillet for some extra fats, and you'll get a rich meal for part of a balanced diet. 
Broccoli is great with other sources of protein like chicken or protein rich vegetables.
FAQs about broccoli
Can you eat only broccoli and survive?
You might be able to survive for a month on only broccoli, but your body would generally lack enough protein and fat to survive. Aside from that, broccoli is too low in calories and your stomach would not be able to handle the sheer amount of food it would need to digest to get the energy needed. (Around 50 cups of broccoli for 1500 calories)
Does broccoli have any bad side effects?
Broccoli is generally safe to eat and healthy. The side effects it has are not serious for your health. The main side effect that might occur in some people is bowel movements, due to the higher amounts of fiber. Broccoli might make some people "gassy."
Can you eat broccoli raw?
You can eat broccoli raw but the main concern regarding that is the sugars that it contains. Your stomach would usually need that sugar to get processed beforehand, otherwise, it would turn your stomach gassy in no time. Raw broccoli is very hard to digest and it is recommended to boil or bake it before consumption.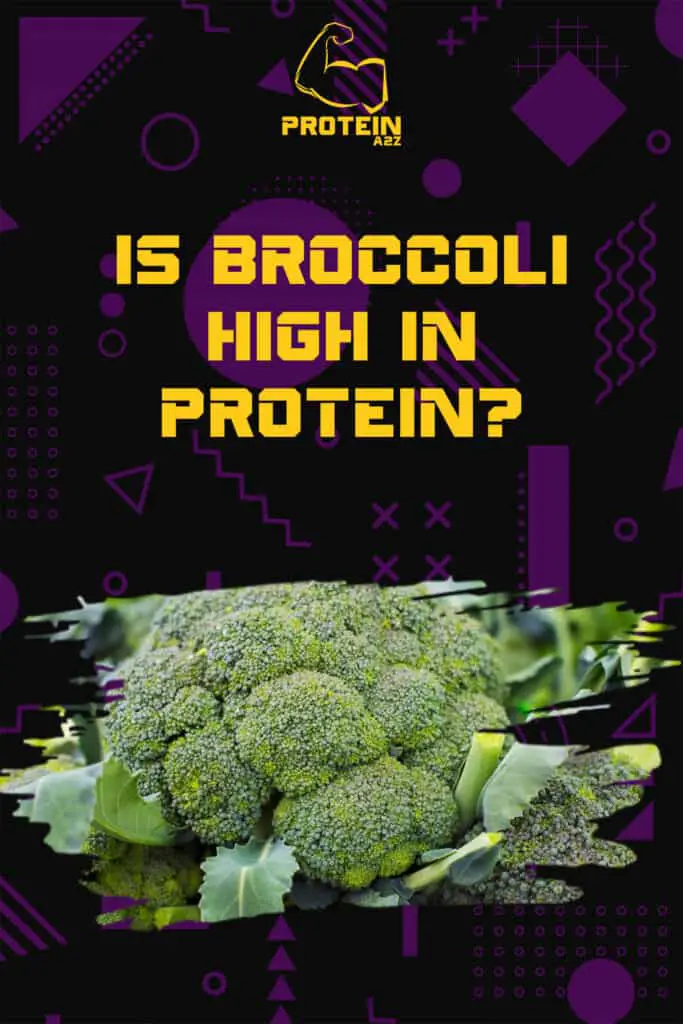 User comment about broccoli
Do You Know What Broccoli Protein Has to Offer You?
The thing about broccoli protein is that is it can provide you with all of the necessary amino acids that are going to help you to be a healthier person. Protein will help you have more lean muscle mass, which is going to be necessary because it means that you are going to be burning fat and calories a lot slower than normal. By having lean muscle mass, you are also reducing the risk of getting a heart attack, stroke, and hypertension. The good news is that a lot of people do not know that this superfood is also very good for them, and they are eating it every day just because of that.
Also full of fiber
One thing that you need to remember is that broccoli protein is high in fiber, so you are not going to have to worry about adding too much in your diet. Fiber is always going to be an important element to any balanced diet. It is also full of anti-oxidants, which are going to help to keep you heart healthy as well. Plus, anti-oxidants are something that everybody needs because they help to fight free radicals that can lead to cancer and many other serious health problems.
For those who are trying to lose weight, or for those who are trying to gain weight, broccoli protein can really do wonders. The reason why it works so well is because of the high amount of anti-oxidants that it contains. In fact, broccoli protein is one of the highest sources of anti-oxidants in a food, so you are going to have a very large amount of them in your system. So, if you want to eat delicious food that is loaded with nutrients, then broccoli protein is exactly what you are going to want to get.